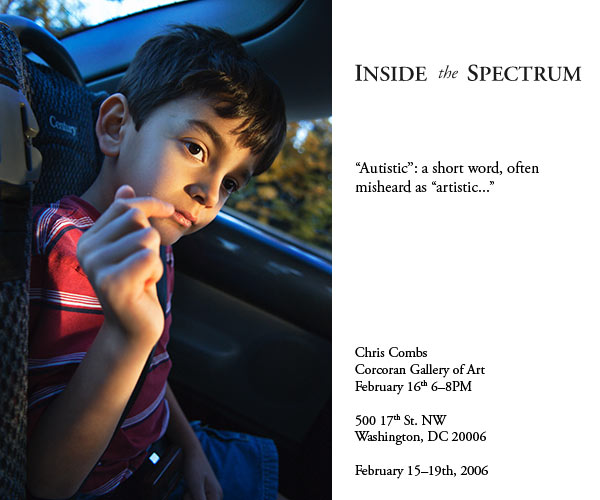 "Autistic": a short word, often misheard as "artistic..."
You are cordially invited to the opening of "Inside the Spectrum," a visual canvass of autism.
The stories of two young men - one seven years old, the other twenty-five, both autistic - and their families are told through photographs and text.
The show opens at the Corcoran Gallery of Art on February 16, 2006, from 6-8PM; it is open to the public from 2/15 through Sunday, 2/19 from 10AM-5PM.
"Inside the Spectrum" is a portion of the Corcoran College of Art and Design's 2006 Senior Photojournalism Thesis Exhibition.
The
Corcoran Gallery of Art
is located at
500 17th St. NW in Washington, D.C., 20006
, and may be reached at 202.639.1700. It is located nearest the Farragut West and Farragut North Metro stations, one block southwest of the White House.